Conservation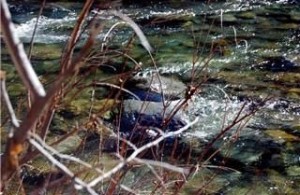 For many people "California" is synonymous with "conservation" and "environmentalism," but that hasn't always been the case. In the 1970s, several grassroots river conservation organizations were founded to protect California's rivers from dams and development. A political battle raged between the Army Corps of Engineers and several conservation groups, including the Sierra Club, over the damming of the Stanislaus River, which was once the most popular rafting and kayaking run in California. The river advocates lost that battle, however since the New Melones Dam flooded the Stanislaus in the early 1980s, no more major dams have been built in California. Now the conservation groups work to protect land surrounding the rivers, keep the water quality high, build river access trails, and help keep the river ecosystems healthy and intact. We appreciate all the hard work these groups to do educate the public and protect California's rivers!

American River: Information on the American River and the many organizations that work to protect the American river watershed and its tributaries.

American River Conservancy: A non-profit organization that fosters community involvement to protect natural habitats through education and recreation.

American Whitewater: Protecting and conserving whitewater resources throughout America.

BRT-Insights (Private boating/kayaking groups Davis, Ca): This personal blog highlights river conservation in California and group kayaking trips.

California Conservation Corps: The Conservation Corp hires 3,300 corps-members each year between the ages of 18 and 25. These members work in 27 locations throughout California focused on natural resource work and emergency response.

California Department of Water Resources: Up to date information on California water resources. Find articles on river protection, environmental reviews and reservoir water levels.

California State Government Watershed Conservation: Advancing sustainable watershed-based programs to manage California's natural resources through community-based strategies.

California Urban Water Council: Focuses on water conservation in urban areas of California.

Environmental Defense Fund: Learn about the state of the nation's water resources and see how you can measure your own water use footprint.

Headwaters Institute: Provides education to individuals and communities to care for and connect to their watersheds.

Friends of the River (FOR): The Friends of the River Organization has been an advocate to preserve, restore and sustain rivers throughout California for more than 30 years. Originally founded in 1973 to save the Stanislaus River from New Melones Dam, the group then grew to encompass statewide river conservation and now has more than 6,000 active members.
Friends of the Los Angeles River (FOLAR): Dedicating to restoring the Los Angeles River. Quite a feat, but they have a great network of supporters and they do awesome work cleaning up the biggest watershed in the Los Angeles area. Plus, they have a really cool duck on their website. And yes, we know this is not a whitewater gem in California, however, it's a river, and we love all rivers.
Friends of the Trinity River (FOTR): a river advocacy and conservation group. They say it best themselves: "Simply put, our goal is to revive the once premier Trinity River, its entire ecosystem, and the economies of the Trinity River Basin and North Coast of California." And who wouldn't want to be part of that?

North Coast Water Network: Directory of conservation groups throughout the North Coast of California.

Protect American River Canyons (PARC): A grassroots educational group based in Auburn, California dedicated to preserving the Middle and North Forks of the American River. PARC sponsors the Confluence Festival every year along with other recreation outings and river clean-ups

River Management Society: A national nonprofit professional organization dedicated to providing supporting materials and information to professionals who study, preserve/protect and manage the rivers of North America.

Tuolumne River Trust: Promotes stewardship of the Tuolumne River and its tributaries, like the Clavey River, with the primary objective of supporting a healthy watershed through river restoration and conservation efforts. This trust also works to create protective policies for these rivers such as the Wild and Scenic river designation.