Rafting and Kayaking Gear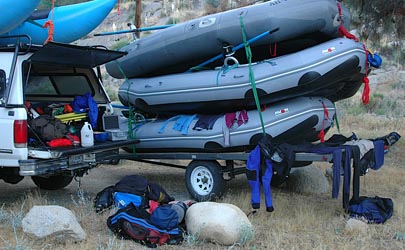 Whether you are kayaking or rafting, putting together a private trip, or going with a commercial outfitter, you will most likely need some gear. What you need varies greatly depending on what time of year you go, the length of the trip, the weather, and if it is private or commercial. Another consideration is whether to buy things new or used, or even just rent them. Here are some resources to help you make those decisions. There are plenty of stores where you can find good deals on new gear, websites to purchase used gear, and review sites to see what other users have to say about the products.
Rafting Gear Checklist
If you are rafting on a one day commercial river trip, all you usually need is a pair of shoes that will stay on your feet and clothes you don't mind getting drenched. A hat, sunglasses and sunscreen are also part of the essentials to protect you from the sun above and the glare off the water. When the weather is colder or the river is more difficult, most outfitters have wetsuits and booties available (sometimes this is included in the trip cost). Any responsible, legitimate rafting operation will provide a personal floatation device (pfd – aka "life jacket") and on Class IV or V, a helmet as well.
Kayaking Gear Checklist
On the other end of the spectrum, if you are planning your own kayaking trip, you will always need at least the 5 bare essentials: kayak, paddle, sprayskirt, helmet, and pfd. On most rivers, a splash top or dry top of some sort is necessary as well. You might also want to consider investing in float bags (we know of a few kayaks that have sunk without float bags) booties, and rescue gear. Earplugs and noseplugs are pretty nice if you are playboating or running bigger rapids.
Online Retail Gear Shops
REI.comRecreational Equipment Incorporated / Outdoor Gear Co-op
Backcountrygear.com Discount camping gear and outdoor apparel
Clavey River Equipment: Everything you might need from webbing and cam straps to frames and boats.