Kayaks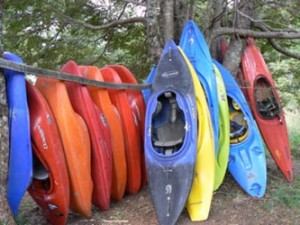 Sometimes deciding which boat to buy is more stressful than running the rapids because there are so many options. First you have to decide whether you want a creek boat, play boat, slalom kayak, or river runner, then you have to decide if you want a displaced hull, etc. Some manufacturers even make a river runner playboat, or big volume creek boat just to make things confusing for you. Most people tend to start with a river runner, which has a nice combination of stability and control. Creek boats are really stable, but are often a little heavier and harder to maneuver or surf. Playboats are really fun, but aren't very stable (which is why it's so easy to throw them around in holes). Once you decide what type of boat you want, here are some of the various boat manufacturers:
Bliss-Stick – Made in New Zealand by some hard-core kayakers. Their kayaks have cool names like Rad, Scud, and Mystic.
Dagger – Owned by the larger company Confluence Watersports in South Carolina, Dagger's line of whitewater kayaks include the Nomad, Mamba, RPM, Kingpin, Agent and RX.
Jackson Kayak – Made by world champion kayaker, Eric Jackson, and heralded as the only company making good kids kayaks these days, Jackson boats are well-designed and have simple outfitting. Their fleet includes the All-Star, Hero, Rocker, Fun, and Dynamic Duo.
Liquid Logic – Hailing from North Carolina, Liquid Logic boats are known for having super comfy, lazy boy-like outfitting. Their Jefe series is a great creeker and they recently came out with a new playboat, the Bisquit, in 2009.
Necky – A lot of people out there say that some Necky boat or another was their first. Now they only make 2 whitewater kayaks, so you don't see them on the water quite so much.
Pyranha – Offering too many kayak options to list here, their more well-known ones are the Inazone, Burn, Habitat, Everest, and Rev. They are based out of North Carolina and England.
Wavesport – Owned by the same company as Dagger, (Confluence Watersports), they offer some alternatives to Dagger boats, but they have similar outfitting Habitat, Diesel, Fuse, ZG, Project