Attractions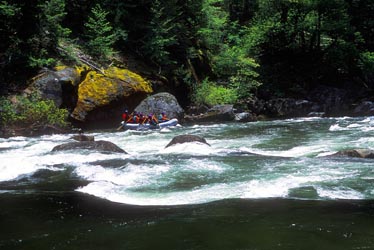 Many historically interesting sites, quaint towns, beautiful Sierra scenery, and recreational opportunities can be found in this section of Gold Rush Country. Contact the Calaveras County Chamber of Commerce (209) 736-2580 or the Tuolumne County Visitors Bureau (800) 446-1333 for additional information.
Outdoor Activities
A run on the North Stanislaus takes you directly through the heart of Calaveras Big Trees State Park. There are plenty of activities to keep you busy if you decide to extend your stay in the Park. Hundreds of trails are available for hiking to see the giant sequoias and redwoods in their natural setting. Other activities include cross-country skiing, ranger talks in the evenings, mountain biking, and bird watching.
Bear Valley: This mountain resort offers unlimited adventure after the snow melts and actually can be considered a four-season resort. Located on scenic Hwy 4 on the west slope of the Sierra Nevada at 7,000′, Bear Valley is easy to get to and worth the trip. This beautiful part of the Central California mountains are home to world class winter sports followed by sensational summers, and offer all types of outdoor recreation, annual music festivals and exciting special events.

California Winetasting
Highway 4 (on the way to the North Stan) is one of the greatest places for winetasting in California. Nestled in the foothills away from the crowds of Napa Valley, there are numerous wineries close to each other. If you don't feel like driving, you can go to several of their tasting rooms in Murphys.
Wineries and Vineyards
Stevenot Winery: 2690 San Domingo Road, Murphys. (209) 728-3436. Located three miles north of Murphy's Main Street off Sheep Ranch Road. The Stevenot family has been in Calaveras County since the Gold Rush orginally with mining in mind. Now over 100 years later, after years of experimenting, the winery is producing over 50,000 cases of twelve different varietals. Stevenot wines are generally of a full-blown style; with big, bountiful noses, rich fruit, and a pleasant balance of oak. The tasting room at the winery is in the historic, sod roofed "Alaska House," and is open daily from 10am to 5pm. The second tasting room, located at Stevenot & Main, 458 Main St. in Murphys, is open daily 10:30am to 5:30pm. Both locations offer special features such as gourmet food, unique gift, award winning wines and a chance to picnic under a grape arbor in the scenic valley.
Ironstone Vineyards: 1894 Six Mile Road, Murphys, (209) 728-1251. This 1,150 acre ranch produces a variety of award winning wines and grappa from their vineyards and brandy from the apple orchards. Located one mile south of the Historic Murphys Hotel on Six Mile Rd. The winery is a seven story facility which is a modern replica of an 1859 Gold Stamp Mill. Daily tours of the winery are offered with a chance to see many unique features like the antique collection, art gallery, restored pipe organ, tasting room and wine aging caverns. The Ironstone Heritage Museum prime artifact from the gold rush is a 44 lb. crystalline gold piece which was found locally. Ironstone Vineyards and Deli are open daily from 11am to 5pm with complimentary wine tasting and tours. Call for an event schedule.
Zucca Mountain Vineyards: 425 Main St., Murphys, (209) 581-1518. Family-owned and operated winery and vineyard by New Melones Lake produces premium grapes for many wine varietals. The tasting room is located in a cellar across Algiers St. from the Murphys Hotel. Featured wines: Syrah, Merlot, Sangiovese Rosato, Syrah Tavel and Chardonnay.
Black Sheep Winery: Corner Main St & Murphys Grade Road, Murphys, (209) 728-2157. The family-owned, 3,500 case winery specializes in zinfandel, but they also make cabernet sauvignon, semillion, merlot and a second label called "True Frogs Lily Pad Red" (paying tribute to the frog heritage in Calaveras County). The winery is open for tasting on Saturdays and Sundays from 12-5 and weekdays by appointment. Informal tours available.
Millaire Winery: 276 Main St., Murphys. (209) 728-1658. Producing award-winning, limited production Zinfandels, Chardonnay, Cabernet Sauvignon, Merlot and Port. Tasting: Open Friday through Monday, 11am to 5pm, or by appointment.
Chatom Vineyard: 1969 Highway 4, Douglas Flat, west of Murphys, (209) 736-6500. You can sample award winning Sauvignon Blanc, Chardonnay, Cabernet Sauvignon, Merlot, Syrah, Sangiovese and Zinfandel in the courtyard picnic area or in the unique rammed-earth tasting room. Tasting: Daily from 11am to 5pm.
Domaine Becquet: 2173 Highway 12 East, Valley Springs, (209)728-3439. Located on 13 acres nestled along Lime Creek. Besides Zinfandels, Syrah and Sangiovese wines, Domaine Becquet also produces olive oil and honey. Tastings and luncheons Wednesday through Sunday, 11am to 5pm. Weddings and banquets also welcome. Call for an event schedule.
Cavern Exploring
California Caverns at Cave City: Cave City Road, Vallecito 95251. (209) 736-2708. For 150 years, visitors have enjoyed California's first show cave. Early visitors include Bret Harte, Mark Twain and John Muir. John Muir actually wrote about his experience in the cave in his book "The Mountains of California." It takes over an hour to cover the lighted trails. Private, professionally guided spelunking tours are given by reservation only.
Moaning Cavern: Parrots Ferry Road, Vallecito 95251. (209) 736-2708. Highlights of Moaning Cavern are the immense gallery which is large enough to hold the Statue of Liberty and the fact that the cavern held the oldest human remains to be found in an archaeological dig in North America. Guests can descend an one hundred-foot spiral metal staircase or rappel an 180-foot rope to the cavern floor. Tours that take you deeper into the undeveloped and unlighted portions of the cavern using lighted helmets, ropes, and professional guides are available for the highly adventurous. Call for reservations.
Mercer Caverns: Sheep Ranch Rd, Murphys 95247 (209) 728-2101. Mercer Caverns are world famous and have been operating since 1885. It is the longest continually operating commercial caverns in the state of California. The guided tours are approximately 45 minutes long. The descent is equivalent to that of a 16 story building. Both entrance and exit is by way of stairs and walkways. Children under the age of five years are allowed with adult supervision. Stairways can be steep in areas and narrow.
Fishing
Lake Tulloch Resort and Marina: 7260 O'Byrnes Ferry Road, Copperopolis 95228 (209) 785-8200
Marina with boat launch ramp, berths and rentals. Ski boats, patio boats, fishing boats, wave runners and kayaks available. Fishing supplies, bait, mini mart, ice and groceries.
New Melones Lake Marina: 6503 Glory Hole Road, Angels Camp 95222. (209) 785-3300. The third largest reservoir in California hosts many activities for those who like to fish, boat or hikers with 12,500 surface acres when full and more than 100 miles of scenic shoreline to explore. Great area for fishing trout, bass, crappie and catfish. Local fishermen are known to say, "Some thing's always biting." Hundreds of wildlife species including deer, fox, coyote, beaver, otter, and raccoon can be seen along the shore as well as eagles, heron, hawks, cormorant and grebe. Full service marina, slip rentals, luxury houseboats, fishing and patio boats, gas pump-outs, convenience store with camping supplies, ice and groceries.
Bear Valley Adventure Company: #1 Bear Valley Road, Bear Valley 95223 (209) 753-2834
Sea kayak rentals, lessons, tours, and sales are provided on beautiful Lake Alpine. Fishing supplies and bait, licenses, gas, mini mart, maps and information also available.