Attractions
Wilbur Hot Springs: (916) 473-2306. An hour drive north on Hwy 16 from Bear Creek. Natural mineral hot springs, message, guests are free to cook in the open kitchen. Rooms with European style bathrooms, camping. One studio with full kitchen, private bath.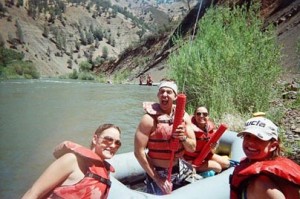 Turn of the century B&B. Call to reserve a room.
Cache Creek Casino: 14455 Highway 16 Brooks, California 95606. Since you're not exactly gambling with your life on a Cache Creek rafting trip, you might as well up the ante and gamble a little of what's in your wallet for added kicks. This casino has been around since 1985 but newer additions like the 200 room hotel and spa, many restraunts and entertainment venue as well as over 3,000 slot machines and 142 table games, including a 28 table Poker Room make it a prime destination in the area.
Cache Creek Canyon Regional Park Yolo County Park system. (530) 666- 8115. One hour north east of Woodland off of Hwy 16. Features many campsites, a playground made from recycled materials and seventy acres for hiking, biking, fishing and horseback riding. The campground has river access so this is a great place to camp after rafting or kayaking Cache Creek.

Insider Tip
While Cache Creek isn't exactly a strenuous rafting trip, if you are looking for rest and relaxation after a day out in the sun, head to Wilbur Hot Springs.
Clear Lake State Park: California's largest fresh water lake is host to all kinds of recreation. Fishing, water sports of all kinds including water-skiing and hiking are just a few of the activities available on and around the lake.
Calistoga: Take Route 16 north from Cache Creek to the 20 west and then take the 29 south from Clear Lake. This low key, charming little town at the northern edge of Napa is home to natural hotsprings, mud baths, fine dining, shopping, galleries, great bookstores and wine tasting. Doesn't sound bad after a day on the river, does it? Oh, and it's home to Old Faithful geyser too.
Napa Take Route 16 north from Cache Creek to the 20 west and then take the 29 south from Clear Lake. Wine, wine and more wine. Did I mention Napa is well-known for its wine?