Restaurants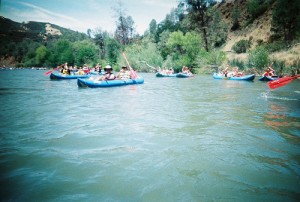 Wuksachi Lodge Dining Room – (406) 862 8190
It's been said that the panoramic view of the surrounding forest from the restaurant upstages the food. Plates can also be pricey but the setting in the restaurant is nice. $$$ Continental breakfast buffet, lunch and dinner.
Giant Grove Restaurant – (866) 522 6966, ext 334.
American Style dining, think along the lines of Denny's and there won't be any disappointment. The soups and burgers are recommended. $$$ Breakfast, lunch, dinner.
Cedar Grove Snack Bar – (559) 335 5500.
Serves light meals and snacks…order at the counter and enjoy your meal inside or at a picnic table outside with a view of the river. $$ Lunch and dinner.

All you can eat BBQ at Wolverton Meadows
The highest destination you can reach by car is the trail head at Wolverton Meadows. This unique outdoor eating experience takes place in, of course, a meadow surrounded by a white fir forest. Tickets for the feast are available in advance at the Lodgepole Visitors Center or at Wuksachi Lodge. It costs about $20 per adult and $10 for kids, if you pay at the BBQ it's cash only.