Whitewater & Scenery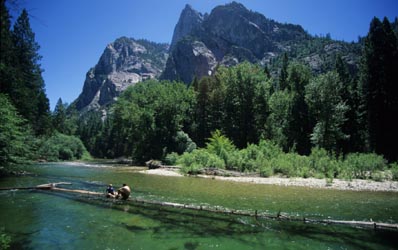 As it flows down into the foothills from its source high in the Sierra Nevada Mountain range, the Kings River winds its way through rolling hills dotted with pines and oaks native to Central California. Though the Banzai section is not known as a wilderness river or beloved for its isolation, you can expect moments of natural beauty and glimpses of wildlife along the riverbanks.
The Banzai Run on the Kings River is known for high volume flows and large rolling rapids with powerful but straightforward hydraulics. Expect long wave trains, not tight and technical maneuvers. Flows on the Kings are highest in spring during the snow melt, but rapids like class III/III+ Banzai, which hits you right after put-in, stay fun at lower flows as well. Other highlights include Fang Tooth and Rooster Tail, which is known for its long and impressive class III wave train as the river flows around an island. The whitewater on the Kings River is spread out fairly evenly throughout the run–there are no long stretches of "float time."

Advanced Boater Tip
While the Banzai run is the most popular for commercial rafting, there are numerous other sections that are more advanced including the Middle Kings, a multi-day Class V expedition kayak trip.