Flows
Lower Kern Release from Lake Isabella: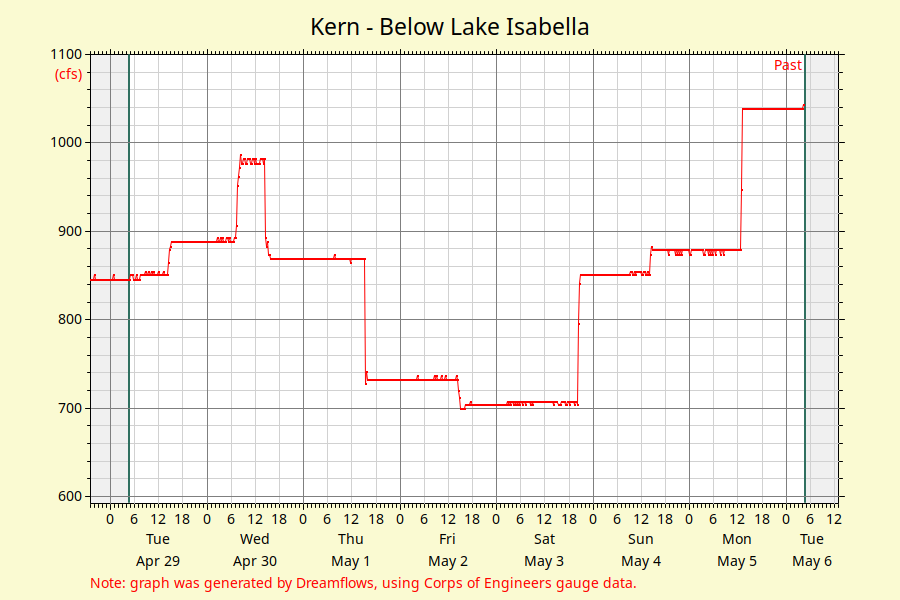 Dreamflows – Lower Kern Flow Graph
500 – 1200 CFS
= Lower flows. Great for eager first timers and experienced rafters. Class III+ whitewater.
1200 – 1700 CFS
= Medium flows. Great for aggressive first timers and experienced rafters. Plenty of Class III & IV whitewater.
1700 – 4000 CFS
= Medium-high flows. Great for experienced rafters and a few aggressive first timers. Plenty of Class III & IV+whitewater.
4000 – 8000 CFS
= High flows. Challenging Class IV+ whitewater, exciting for experienced rafters. Big waves and swift moving water.
Above 8000 CFS
= Extreme high flows. Fast moving water, with powerful waves and long rapids. Experience is highly recommended. Trips at these levels are best for very aggressive people who are not afraid of falling into a very fast river with long rapids.
CFS: Cubic Feet per Second

Flow Tip
The Lower Kern is the Southern California mainstay in the hot summer months. Because it is dam released out of Lake Isabella, the Kern has consistent flows through the end of August, and sometimes into September. If you are looking for a fun way to escape the summer heat, a rafting or kayaking trip on the Lower Kern is the perfect solution.
Watershed Information
The Lower Kern has dependable summer flows and the water is warmer so a swim isn't as shockingly cold as other rivers. Below Democrat, the Kern has another set of awesome class IV, V, and V+ whitewater that is a difficult challenge for even the most experienced boater.