Hotels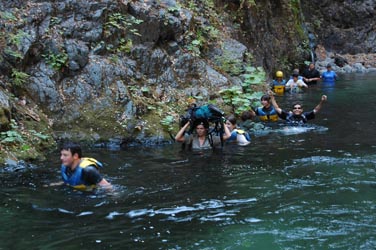 A good majority of a multi-day whitewater river trip on the Lower Klamath River will be spent at campsites along Hwy 96 or at more secluded riverside beaches. Below is a good list of places to stay before or after your adventure on the water:
Hotels near Happy Camp
Klamath River Inn: (530) 493-2735 Hwy 96, 2 miles east of Happy Camp and 61 miles west of Yreka. The only river front lodging in Happy Camp. Hotel, spa and kayak rentals available. Views of the Klamath River. Kitchenette in all rooms. Perk: Fully stocked Hotel grocery store.
Thompson Creek Lodge: (530) 496-3657 10 miles east of Happy Camp in Seiad Valley
B&B's near Happy Camp
Marble Mountain Ranch: (800) 552-6284 off of Hwy 96, 35 minutes from Happy Camp. Family owned and operated for over 25 years. 10 cottages and 2 fully furnished homes available. Perk: All-inclusive packages with home-style meals. *See website for correct directions – do not use GPS or map-quest.

Camping Tip
The Lower Klamath is in Northern California, but the weather is more akin to Southern Oregon, so even in the summertime, when temperatures are typically warmer and the weather is drier, it may still rain. Bring a tent or a rain tarp and be thankful for a refreshing break from all the summer heat.
Campgrounds near Happy Camp
Tree of Heaven Campsite: Located near the Klamath River in Klamath National Forest on Hwy 96 close to I-5 (530) 493-2243 Open May-Oct. $15 campsites.
Curly Jack Campsite in Happy Camp located near the Klamath River in Klamath National Forest (530) 493-2243 Open May-Oct. $15 campsites.
Hotels near Crescent City
Hampton Quality Inn and Suites: (707) 465-5400 Enjoy the sunset over the Pacific Ocean from your hotel window. Hotel perk: Close to the lighthouse and walking distance to restaurant and bars.
Pacific Inn: (800) 977-9553 This nationwide chain hotel is well priced for the traveler on a budget. Inn Perk: Continental breakfast.
B&Bs near Crescent City
Front Street Inn: (707) 464-4113 Ocean view rooms, well priced, family friendly and clean Rooms have Wi-Fi. Inn Perk: Pets allowed.
Lighthouse Inn: (877) 464-3993 Nice rooms, close to the harbor and lighthouse. Jacuzzi tubs available for some rooms to help those sore muscles after a trip on the river in the rain. Inn Perk: Full breakfast buffet.
Campgrounds near Crescent City
Jedediah Smith Redwoods State Park (707) 458-3018 Nine miles east of Crescent City on Hwy 199. Find yourself surrounded by old growth coastal redwoods with over 20 miles of hiking and nature trails, river access too. Park and campground open year round. You'll most likely be camping in the rain so remember all things waterproof, especially extra plastic tarps.