Flows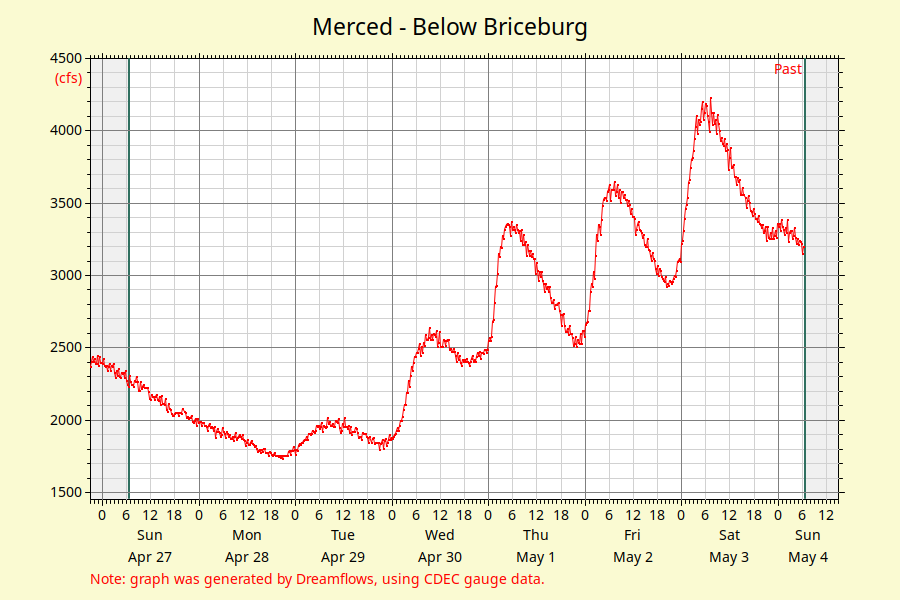 Dreamflows – Merced River Flows
500 – 1000 CFS = Lower flows. Great for eager first timers and experienced rafters. Class III+ whitewater. Wetsuits only required during cooler months.
1000 – 3000 CFS = Medium flows. Great for aggressive first timers and experienced rafters. Plenty of Class III & IV whitewater. Wetsuits required during cooler months.
3000 – 5000 CFS = Medium-high flows. Challenging Class IV whitewater, exciting for experienced rafters. Big waves and swift moving water. Wetsuits required. Usual minimum age will be increased.
Above 5000 CFS = Extreme high flows. Fast moving water, with powerful waves and long rapids. Experience is highly recommended. Wetsuits required. Usual minimum age will be increased.

Flow Tip
For advanced highwater paddlers, Split Rock rapids are an incredible (and somewhat scary!) thrill between 7,500 -12,000 CFS. Ned's Gulch is perfect and at 5,500. Make sure to scout.
Merced Watershed
The southern half of Yosemite National Park is home to the Merced watershed. The river crashes over Nevada and Vernal Falls as it makes its way into the Yosemite Valley. The main branch of the Merced is 112 miles long and flows freely until it reaches the New Exchequer dam in Lake McClure. From the dam, its waters are diverted west through the foothills and the valley where they eventually reach the San Joaquin River.
During the Ice Ages, glaciers cut through the area now known as Yosemite National Park creating one of the canyons that holds the Merced River. Most of the valley between the granite batholith of Half Dome and El Capitan was ground to sand by the glaciers and sediment deposits from the Merced can be seen around the town of Livingston in the San Joaquin Valley.
In 1806, Gabriel Moraga lead an expedition through the valley and named the river El Río de Nuestra Señora de la Merced meaning "River of Our Lady of Mercy." Moraga and his crew came upon the river after a long and dusty ride hence the benevolent title given to the waterway.
The nomadic Yosemite-Mono Lake Paiutes would make the Merced riverbanks their home yearly. The Awani made the Yosemite valley their home as well until their displacement during the Gold Rush. Explorers in the area mistakenly thought their tribal name was "Yosemite" which was actually an Awani word for "grizzly bear."
An unusual and rare Limestone salamander species can be found along the river valley today.
Over four million people from around the world visit Yosemite National Park and the protected Wild and Scenic Merced watershed each year.