Hotels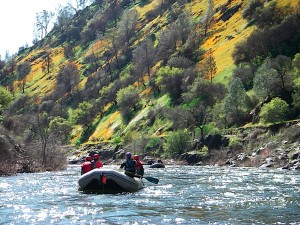 Options for lodging near the Merced River range from rustic and rugged to cozy and comfortable. Charming hotels and B&B's are plentiful in the California foothills. The Yosemite Bug Mountain Resort and Hostel is a nice option for boaters who want a solid roof over their head but don't want to spend a lot of money on a hotel. With so much wilderness surrounding the Merced River, camping is easy to find and designated campsites typically have bathrooms and running water.
Hotels and B&B's
Highland House B&B: Mariposa, (209) 966-3737
This country cottage sits on a 10 acre plot surrounded by beautiful forest and hiking trails. It has three full bedrooms to choose from, each filled with traditional and elegant decor. Full kitchen access is offered to guests along with a game room, bicycles to explore the surroundings, TV/DVD, warm fireplace, and many other luxurious amenities. This home is only minutes from Yosemite National Park and 20 minutes from the AO meet place.
Little Valley Inn: Mariposa, (800) 889-5444
This bed and breakfast offers six contemporary cabins. Each cabin has a private entrance, private shower/tub, outdoor seating, satellite TV, and a complimentary buffet breakfast. AAA approved and about 20 minutes from the AO meet place.

Insider Tip
The Yosemite Bug Hostel (and spa, restaurant, hangout extraordinaire) is the place to be in the summertime whether you're a boater or just a traveler on your way to Yosemite. River guides and kayakers have been known to get "eddied out" here for a while.
Mariposa Lodge: Mariposa, (209) 966-3607 or (800) 966-8819
Conveniently located in the heart of old town Mariposa and less than 10 minutes from the AO meet place, this lodge has 45 modern rooms along with a pool and spa and nicely landscaped garden courtyard. Rooms include HBO and VCR, refrigerator, and coffee. Small pets welcome and this location is AAA approved.
Meadow Creek Ranch Bed and Breakfast Inn: Mariposa, (209) 966-3843 or (800) 853-2037
Originally an 1850's overnight stagecoach stop, this charming home is conveniently located in old country and 25 minutes from the AO meet place. On the grounds are two guest cottages, main house, old lumber mill, and ranch. Guests arise each morning greeted by a fresh and homemade family-style breakfast in the dining room. Each guest room is elegantly decorated with antiques and has a private bath. After a long day exploring the nearby sites guests can dip their toes in the seasonal creek, take a walk in the meadow, or view the scenery and wildlife from the front porch.
Miners Inn Motel: Mariposa, (888) 646-2244
This Inn offers 78 rooms complete with modern conveniences. Amenities include pool and spa, king and queen beds, coffee and continental breakfast, rooms with kitchenettes, and free local airport pickup. Less than 10 minutes from the AO meet place.
Poppy Hill Bed &Breakfast: Mariposa, (209) 742-6273 or (800) 58-POPPY
This charming restored country home is the perfect getaway for anyone looking to relax and enjoy the feeling of home away from home. Three full bedrooms are available to the guests, each filled with beautiful European and American antiques. Each bedroom is furnished with a queen oak-carved bed, private bath, and bathrobes. Guests can also enjoy the gardens surrounding the home, patio hot tub, and complimentary beverages and hors d'oeurves. Each morning convenient to your schedule, a full gourmet breakfast is served and outside dining is available. This location is about 8 minutes from the AO meet place.
Yosemite Bug Rustic Mountain Resort: Midpines, (209) 966-6666 or (866) 826-7108
This resort is located on a beautiful hillside surrounded black oak groves, about 10 minutes from the AO meet place. It offers renovated private cabins, Yosemite-style wood frame tent cabins, and classic hostel/group dorm beds in cabins. Enjoy non-processed and high quality fresh breakfast, lunch, and dinner at the Cafe in the main lodge. This location also offers access to laundry, Internet, and public phones. Guests are encouraged to explore Bug property trails and weekly live music.
Yosemite Motels: El Portal, Mariposa, Oakhurst (888) 742-4371
Five separate facilities: Cedar Lodge, Yosemite View Lodge, Best Western Mariposa, Comfort Inn Mariposa, and Comfort Inn Oakhurst. Amenities include casual and fine dining, pools, spas, and conference rooms.
Campgrounds
BLM Merced River Recreation Area: between Briceburg and Bagby, (916) 985-4474
Only about 20 minutes from the AO meet place, this location allows you to enjoy camping along the beautiful Merced River in three campgrounds. Sites are first-come first-serve and each offers fire grills, picnic tables, pit toilets, garbage collection, and access to the Merced River. Campgrounds are accessible only by crossing the narrow bridge at Briceburg and heading down river on the road (old Yosemite Valley Railroad grade). Trailers and RV's over 18 feet are not recommended to cross the bridge.
McCabe Flat: 11 walk-in campsites, 3 vehicle/RV sites
Willow Placer: 9 walk-in campsites, 1 large group site
Railroad Flat: 3 walk-in campsites, 6 vehicle/RV sites
Bagby Recreation Area on Lake McClure: Info (209) 378-2521, Reservations (800) 468-8889
One of 5 recreation areas located on Lake McClure and Lake McSwain, Bagby is about a 45 minute drive on Hwy 49 to our meet place. This recreation area offers 30 campsites, 10 water/electricity hookups, and 5 picnic units. Visitors have access to sandy beaches, swimming, hot showers, two comfort stations, fish cleaning station, and one boat launching lane.
Yosemite National Park: (800) 436-7275
13 popular campgrounds are located within Yosemite National Park, of which up to seven are on a reservations system. Reservations are highly recommended, especially during April through September, and even first-come first-served sites often fill by noon from May through September.