Attractions
Crescent City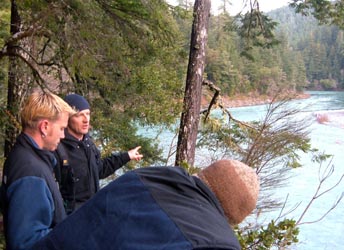 The Northern Pacific Coast The mouth of the Smith River meets the Pacific Ocean about four miles from the Oregon boarder. Be sure to head to the coast no matter what fork of the Smith you take. Check out the dunes along Pelican Bay south of the Smith River.
Jedediah Smith Redwoods State Park: (707) 458-3018. Nine miles east of Crescent City on Hwy 199. Find yourself surrounded by old growth coastal redwoods with over 20 miles of hiking and nature trails, river access too. Park and campground open year round.
Redwood National Park: (707) 464-6101. Five miles south of Cresent City along Hwy 101. There are four developed campsite areas. Three are in the redwoods and one is on the coast. No trailer hook-ups, hiking trails abound.
Battery Point Lighthouse: Crescent City Harbor When you read that the first keeper of this lighthouse was named Theophilis Magruder, it is certain that this landmark has a long and storied past. Perhaps the most fascinating tidbit being, besides the name of above mentioned keeper, that the lighthouse and Crescent City were hit by a tsunami in 1964 triggered by a magnitude 9.2 earthquake in Anchorage and sustained the worst damage ever recorded in the lower forty-eight states. The lighthouse first beamed into the foggy night in 1852.

Insider Tip
If you're not into rivers, or a need a change of pace, Crescent City is locate right on the ocean. Surfing and surf kayaking are great options. Or you can build sand castles and hope the sun comes out.