Flows
While the Kern River shares many of California rivers' common characteristics such as granite, ponderosa pines, and pool-drop rapids, the Kern definitely dances to its own beat. First, it spends most of its journey heading north to south, rather than the typical east to west flow of Sierra rivers. Second, it is both the longest river and largest watershed in the Sierra Nevada. And to top it all off, the Kern River is one of California's oldest river drainages. If you need more convincing than bigger+longer+older=better, then you may have to head to the Kern River to test out the numerous options for rafting and kayaking.
Kern River Flow Graphs
Upper Kern at Kernville: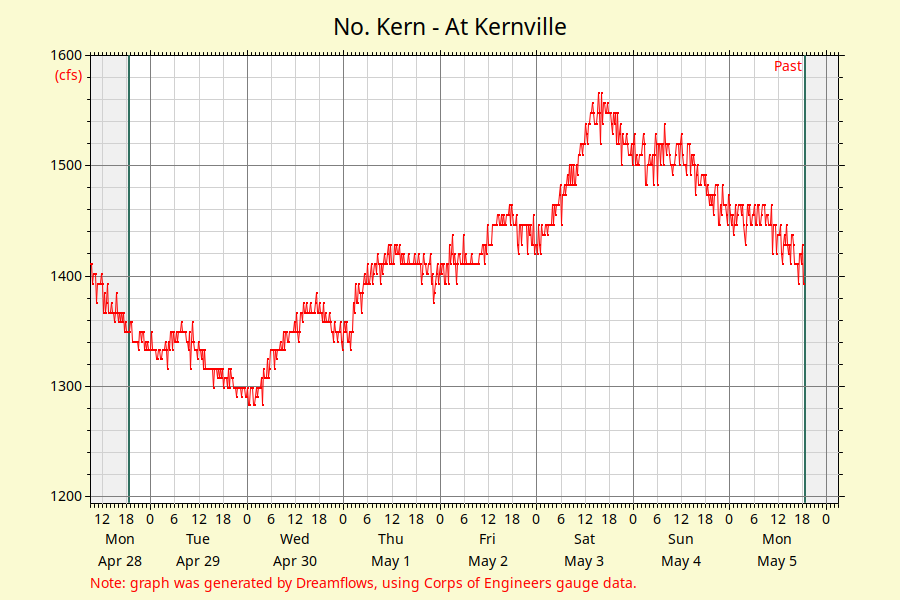 Dreamflows – Upper Kern Flow Graph
500 – 1200 CFS
= Lower flows. Great for eager first timers and experienced rafters. Class III+ whitewater.
1200 – 1700 CFS
= Medium flows. Great for aggressive first timers and experienced rafters. Plenty of Class III & IV whitewater.
1700 – 4000 CFS
= Medium-high flows. Great for experienced rafters and a few aggressive first timers. Plenty of Class III & IV+whitewater.
4000 – 8000 CFS
= High flows. Challenging Class IV+ whitewater, exciting for experienced rafters. Big waves and swift moving water.
Above 8000 CFS
= Extreme high flows. Fast moving water, with powerful waves and long rapids. Experience is highly recommended. Trips at these levels are best for very aggressive people who are not afraid of falling into a very fast river with long rapids.
CFS: Cubic Feet per Second

Flow Tip
Some sections of the Upper Kern flow longer than others because of diversion tunnels and mini dams. Most of the water gets diverted back into the main river, and you don't need a lot of water to enjoy the Kern River playpark, so even if the flows are low, you can go out and practice your eddy catching skills.
Kern Watershed
The Kern River has every variation of whitewater for all skill levels. The river and its tributaries offer some of the most challenging and visually stunning whitewater in the world. The Upper Kern (North Fork) has over 20 miles of easily accessible whitewater for rafting and kayaking.