Attractions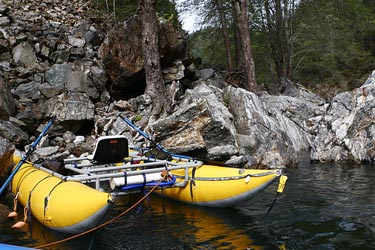 Visiting the Cal-Salmon river is a definite highlight in this region of California. If you would like to extend your stay in the area, there are plenty of other activities that will enable you to immerse yourself in the history and vast beauty of northwest Siskiyou county. Whether it is exploring museums containing relics from the Gold Rush, learning about the Native American culture of the area, trekking a part of the Pacific Crest Trail or taking a scenic drive through the pastoral valleys of Siskiyou there are plenty of activities to keep you busy. The major towns in the area are Fort Jones, Etna, and Yreka.
Three Scenic drives to or from the Cal Salmon River:
If you're heading to Scott Valley, take Hwy 3 southwest out of Yreka. On Interstate 5 take the south Yreka exit. From there you will drive through Forest Mountain between Yreka and Fort Jones.
A little further south on Interstate 5 take the Grenada or Edgewood exit and follow Highway 99 to the town of Gazelle. From there, turn west on the Gazelle-Callahan Road and you will ascend over beautiful ridges to the town of Callahan.
At Somes Bar, take Hwy 96 to Scott Valley. This route follows the Salmon River along Forks of the Salmon. From here you can go two ways: either take the Etna Road that follows the north fork of the Salmon River leading to central Scott Valley, or drive along the south fork through Cecilville, to the southern end of Scott Valley, around the town of Callahan.

Insider Tip
Rafting and kayaking truly are the best things to do around here, but if you need a day off, there are beautiful riverside hikes. Remember that the Cal Salmon is pretty remote, so driving around from town to town can be an all-day affair.
Fort Jones
Dating back to its hayday during the goldrush, the town was originally a stage stop between Yreka and Shasta County. There was an active fort (Fort Jones) built in 1852 and then abandoned in 1857.
Staffords' Scott Valley Organic Orchard and Winery off Scott River Rd. Tours offered please call for appointment 530-468-5297.
Fort Jones Museum: Delightful displays of goldmining days and native american culture. Admission is free and donations are accepted. Open Memorial Day through Labor Day, Monday – Friday 10am to 4pm, and Saturday 11am to 3pm.
Equestrian and Pack trips: See the open wilderness back country of western Siskiyou County on a pack trip or hike with mules and llamas. Licensed guides escort you through areas of the Marble Mountains.
Quartz Valley Packers, 12500 Quartz Valley Rd., Fort Jones, 96032, 530-468-2592
Broken Wheel Llama Ranch, 3708 Scarface Rd., Fort Jones, 96032, 530-468-2559.
Etna
This quiant town was first settled in 1830 and today has a population of less than 800 people. Etna has retained the flavor of the Gold Rush era, with numerous historic store fronts and period homes along Main St. and throughout town. In downtown Etna visitors can experience a miniature museum located, ironically, in a huge walk-in safe.
The Etna Brewery: once named the Kappler Brewery, it was closed in 1919 during Prohibition. Now it is a microbrewery that produces all-natural brews and serves pub style food. If you're driving, the root beer comes highly reccomended. Open daily from noon to closing. Tours are also available. 530-467-5277
Equestrian and Pack trips: See the open wilderness back country of western Siskiyou County on a pack trip or hike with mules and llamas. Licensed guides escort you through areas of the Marble Mountains.
Bryan & Sherman Packing, 4125 Eastside Rd., Etna, 96027, 530-467-3261or 459-5417.
Kleaver Pack Station, 8033 Big Springs Rd., Montague, 96064, 530-459-5426.
McBroom & Co. Packers and Guides, Star Route 4, Box 345, Etna, CA 96029, 530-462-4617
Yreka
One of the largest towns in Northern California, this once bustling Gold mining town now boasts that it is the center of one of California's primier outdoor recreation destinations. Visitors can travel an hour in any direction from town and find a thrilling adventure or a nice spot for wilderness sightseeing.
Native American Heritage Park – North Miner St. next to the Yreka Fire Department. The Native American Heritage park was established in 1995 to honor the many native American tribes that originally inhabited Siskiyou County. Visitors can view a replica of a traditional sweat house and take an interpretive walk throughthe outer gardens.
Chinese Cemetery – Northeast of Yreka on Hwy 3. The great boom of the Gold Rush brought many immigrants to California. Yreka's substantial Chinese population was almost completely gone by the early 1940's. All that remains of Chinatown today is a single marker inscribed in Chinese to honor those who came to the new fronteer.
Greenhorn Park – Greenhorn Rd. south of Yreka. Named for an English gentleman, whom the other miner's had nicknamed "greenhorn" for his apparent lack of mining skills, who traveled upstream and managed to bring back enough sacks of gold to make him an even wealthier man. This is the city's largest park and it includes a reservoir with excellent fishing and small boating. There is also a reconstructed mining town with displays of several different types of mining operations.
Siskiyou Golden Fair Grounds – The Siskiyou Golden Fair takes place each August and attracts many visistors. The fairgrounds area also used for events such as the Gold Wing Touring Association rally, equestrian events, and numerous community events from home shows to wedding receptions.
Siskiyou Performing Arts Center The arts are alive and flurishing here, so if you have a chance while in the area check for performance schedules from the Chamber of Commerce.
Klamath National Forest Interpretive Museum – The museum holds an extensive collection of natural and historic exhibits. Brochures are available for all types of recreational activities and camping within the national forest, as well as interesting interpretive guides to plants and animals of the region. Klamath National Forest Headquarters Building 1312 Fairlane Rd., Yreka; (530)842-6131
The Million Dollar Gold Display – Located in the lobby of the Siskiyou County Courthouse, visitors have the chance to view the largest gold display south of Alaska. The display includes old photos, descriptions and recollections of the miners as well as various forms of gold found in the area, including huge nuggets, flour gold and gold dust. 311 Fourth St., Yreka.
Siskiyou County Museum – Various exhibits within the building house the many cultures that made up a fairly diverse history in Siskiyou County. Travel through Native American history and then see how the county changed with the mountain men pioneers and settlers. Follow the Gold Rush and see how Chinese immigrants transformed Siskiyou County. Open Tues. – Sat. from 9am to 5pm. The outdoor area featuring a number of historic buildings is open Memorial Day through October. Siskiyou County Museum, 910 Main St., Yreka. (530)842-3836.
The Yreka Creek Greenway – a 4.5 mile park along Yreka Creek, offers great wildlife spotting and a chence to sit at a peaceful picnic table and take in the amazing scenery or take a walk along the trails around the creek. OInterpretive visitors' center located at the entrance to the greenway behind the Siskiyou County Museum on Main St.
A Walking Tour of Historic Yreka – Start on Miner St. in downtown Yreka. Shops and restaurants along the tour are housed in buildings dating back to the late 1800's. There are more than 75 American Gothic and Victorian homes built between the late 1850's and the early 1900's. Most are private residences but a few are open to the public. An excellent Walking Tour Map is available from the Yreka Chamber, 117 W. Miner St. (on the corner of Miner St. and Broadway) Yreka CA 96097. 800-ON YREKA.
Scott Valley
Scott Valley Chamber of Commerce, (530) 468-5442
The Marble Mountain Wilderness – Named for the large white limestone outcropping that stands 6,880 feet above sea level, this area is one of California's earliest protected wildrness sites. This region is part of the Klamath Mountains at the Northern most part of California, surrounded by the Trinity Alps to the South and the Siskiyou Mountains on the Oregon border to the North.