Restaurants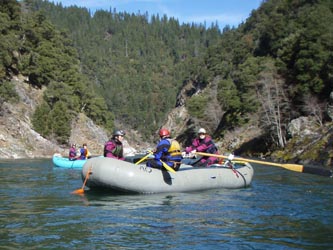 Restaurants Near Yreka
Brickhouse Bakery and Pizzeria 313 W. Miner Street, Yreka CA 96097. (530) 841-0553. $-$$ Sreves up nice thin crust pizza and yummy baked goods. Breakfast, Lunch and Dinner.
Grandma's House Restaurant 123 East Center Street, Yreka CA 96097. (530) 842-5300. $-$$ Great American diner fare. Breakfast served until 1PM. The pancake breakfast is highly recommended. Open 6AM Daily. Casual atmosphere.
Silver Spoon Bistro and Catering Company 322 West Miner Street, Yreka CA 96097 (530) 842-5000 $-$$$ Located in historic downtown Yreka this classy but relaxed bistro offers international and California cuisine using local, fresh ingredients. Call for hours.
Places to Eat Near Happy Camp
Indian Creek Cafe 106 Indian Creek Rd, Happy Camp, Ca 96039 (530) 493-5180 $$ A local favorite, be ready to flip through the cafe's 18 page menu…hopefully you'll find something you like.
Restaurants in Mt. Shasta
Stage Door Cabaret and Coffeehouse: 414 N. Mt. Shasta Blvd., Mt. Shasta CA 96067 (530) 926-1050 $-$$$ Coffee and Cabaret Theater. Fare varies from fine dining to deli lunches and pastries. Nice beer selection. Live entertainment nightly. Open Mon – Sat: 7am – 10pm,
Sundays: 7am – 7pm.
Michael's: 313 N. Mt. Shasta Blvd., Mt. Shasta CA 96067 (530) 926-5288 $$ Wonderful food in a cozy setting! Italian fare. Call for hours.

Dining Tip
Dining out while you're boating on the Cal Salmon is not really a convenient option. Packing food and cooking in camp is much more feasible. And, if you're on a commercial rafting trip, they will do all the cooking for you!
Places to Eat in Dorris
Hospitality Inn and Dinner House Pub: 200 S. California St. and 113 West Third St., Dorris CA 96023 (530) 397-2097. A more expensive local favorite for fine dining.
Restaurants Near Montague
Dutchman Restaurant: 155 N. 11th Street, Montague CA 96064 (530) 459-5397 $$ – $$$ Breakfast/Lunch Wed – Sun Dinner Fri – Sat. Banquet facilities available. Featured item include the prime rib and New York steaks.
Ms. Lynn's Tea: 120 N. 11th Street, Montague CA 96064, (530) 459-3439 $$-$$$ Traditional English tea served in a relaxing atmosphere where "grown-ups can be children and children can be grown up."
Business Hours: Wednesday through Sunday, 10:00 am to 4:00 pm. Dining room opens at 11:00 am.
Places to Eat in Dunsmuir
Railroad Park: 100 Railroad Park Road, Dunsmuir CA 96025 (800) 974-RAIL, (530) 235-4440 $$-$$$ Eat on an actual train car without actually having a ticket to ride. This lounge and dinner house is set up inside a stationary train caboose and serves steaks, fresh fish, chicken, and pasta. Nice family atmosphere.