Attractions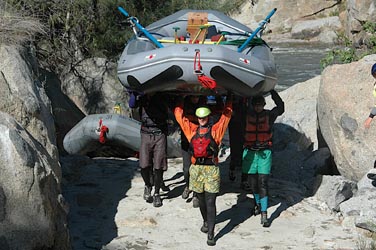 There are many outdoor activities to take part in when visiting the Kern River Valley in addition to your whitewater rafting or kayaking trip. If you're a hiker, the great thing about a trip on the Forks of the Kern is that a short hike is automatically guaranteed with each trip…just to get to put-in. Either that or you can opt to ride a horse. If you are looking for more outdoor activities after your time on the water though, hiking, mountain biking, camping and possibly even skiing and snowboarding are some options along with great fishing at Lake Isabella.
Each spring, the Kern River Festival is held at the Riverside Park in Kernville. The competition includes Raft races and kayak slalom and is usually in April.
Kern Valley Trail Rides
(760) 379-4929 Horse rides available by reservation.

Hiking Tip
There is a great trail that goes right along the last few miles of the Forks of the Kern beginning at Johsondale Bridge and heading upstream along the river left bank.
Trail of a Hundred Giants: Take a walk trough the forest with the oldest beings on earth. The Giant Sequoias of California only grow on the western slopes of the Sierra Nevada. General Sherman Tree measures in at 275 ft tall and is 36.5 feet in diameter…you can't throw your arms around him completely but its pretty amazing to get up close to the largest living organism on the planet.
Kern River Preserve Past Lake Isabella on Hwy 178 1.1 miles past the intersection of Sierra Way. Open dawn to dusk. Many plant and animal species in this rich riparian environment..birdwatching galore.
Silver City Ghost Town: (760) 379-5146 call to arrange a guided tour. 3829 Lake Isabella Blvd, Bodfish, Ca 93205 A composite town, historic buildings were brought in from all over the Kern Valley to be saved from demolition. Over the years Hollywood has used its backdrop for numerous films and it is also listed in the "National Directory of Haunted Places."