Attractions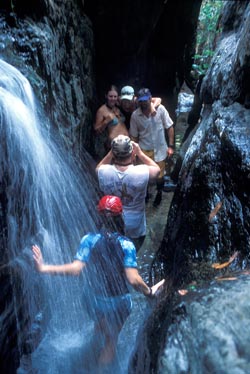 The Middle Fork of the American River canyon is near the HWY 80 corridor so it's an easy drive fromplaces with plenty of things to do. It's just down the road from Sacramento, the scintillating capitol of the Golden State, right near historic Auburn, and fairly close to Grass Valley and Nevada City. Multi-sport people will also love how close it is to Donner and Truckee. The ambitious traveler–or gambling addicts–won't mind a drive to Reno, Nevada, either.
Auburn
Auburn is a Gold-Rush era town with an historic Main Street and plenty of shops. It's very conveniant to the Middle Fork of the American–just a few miles down the road. For a multi-sport weekend check out Auburn's golf courses or one of the area's many endurance sports events.
Sacramento
Sacramento has lots of fun things to do, ranging from live music at venerable clubs like the Palms and the beautiful Crest Theater. You can take a trip into Sac's past in Old Sacramento, where you can find more salt water taffy than one state really needs or take a carriage ride around the block.

Endurance Races in Foresthill
Foresthill is home to the Western States 100 endurance run, the Tahoe Sierra 100 Mountain Bike Race, and the Tevis Cup, a 100 mile equestrian race.
Fun Stuff in Roseville
Ha ha, there's not that much fun stuff in Roseville. They do have a really, really big mall, though, and lots of car dealerships. So if you want to buy something from a chain store and eat lunch at a chain restaurant with a plastic menu, you've found your own small heaven on earth in Roseville.
Grass Valley and Nevada City
Both Grass Valley and Nevada City are both historic Gold-Rush era towns with interesting downtowns. They are also both known for vibrant and unconvential cultural scenes. Special events are common, from car shows to art festivals and farmer's markets. There are several foothill wineries in the area as well, if you want to unwind after a day on the water.
Reno, Nevada
Reno doesn't need much of an intro–you either want some glitz n' gamblin' or you don't. If you do–and also want a whiteater fix while you're nursing your lighter wallet–head downtown to the whitewater park where you can practice all your kayak moves surrounded by a booming metropolis. If you're up there anyway and need gear, check out the Patagonia outlet. They don't have boats or repair stuff, but they do have great deals on high-quality environmentally responsible clothing useful for boaters. Another place to find killer deals is the Sierra Trading Post Outlet.