Restaurants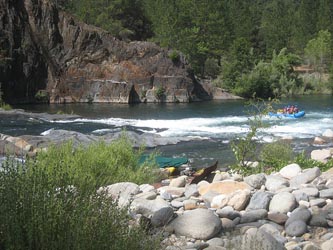 Restaurants Near Foresthill
Worton's Grocery – A popular place with local river guides, Worton's is located right in the heart of Foresthill–very convenient to put-in and take-out. You can get your standard groceries there, or saddle up to a belly bomb of burgers, jojo potatos, and deli salads. Worton's is located at 23140 Foresthill Rd.
Pizza Factory – If you've spent much time driving around the California foothills, you may have heard their slogan before: "We toss em, They're awesome." They also have wi-fi for those who need to send an email while eating pizza. Pizza Factory is located at 24340 Main St, Foresthill, (530) 367-3245.

Guide Hangout: Red Dirt Saloon
The only place to get good beer and margaritas in town. The Red Dirt Saloon and Ore Cart Steakhouse is complete with authentic 1850's Gold Rush decor. Located on Foresthill Road just past town.
Auburn
Auburn is a little further from the river, but has many options to fill your belly–from local eateries, to plastic menu chain restaurants. You'll see a million places to eat if you just drive around a bit. A local (and favorite) institution is Ikeda's, a fruit stand with way more than Fuji apples, mandarins, and cantaloupes. Ikeda's has a burger stand, a massive collection of hot sauces, dried fruits, imported beers, homemade dips and spreads, and fresh fruit pies. They're right off Hwy 80 at 13500 Lincoln Way (530) 885-4243.