Attractions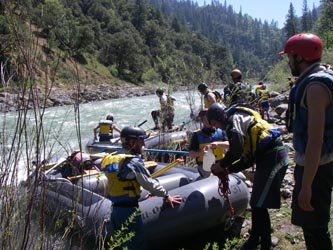 The Middle Fork of the American River canyon is near the HWY 80 corridor so it's an easy drive from
places with plenty of things to do. It's just down the road from Sacramento, the scintillating capitol of the Golden State, right near historic Auburn, and fairly close to Grass Valley and Nevada City. Multi-sport people will also love how close it is to Donner and Truckee. Ambitious paddlers–or gambling addicts–won't mind the drive to Reno, Nevada, either.
Things to Do near Auburn
Auburn is a Gold-Rush era town with an historic Main Street and plenty of shops. It's very conveniant to the Middle Fork of the American–just a few miles down the road. For a multi-sport weekend check out Auburn's golf courses or one of the area's many endurance sports events.

Insider Tip: Hiking & Biking
There are tons of hiking trails near Colfax and the North Fork American, as well as 30 miles of world-class mountain bike trails in Auburn. If you are looking for an additional adventure, check out SingleTracks for trail information.
Fun stuff in Sacramento
Sacramento has lots of fun things to do, ranging from live music at venerable clubs like the Palms and the beautiful Crest Theater. You can take a trip into Sac's past in Old Sacramento, where you can find more salt water taffy then one state really needs or take a carriage ride around the block.
Grass valley and Nevada City
Both Grass Valley and Nevada City are both historic Gold-Rush era towns with interesting downtowns. They are also both known for vibrant and unconvential cultural scenes. Special events are common, from car shows to art festivals and farmer's markets. There are several wineries in the area as well, if you want to unwind after a day on the water.