Hotels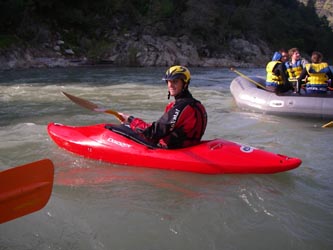 There are plenty of places to stay before or after a rafting trip or day kayaking the North Fork of the American River. The greatest variety is in Auburn, just about 25 minutes down the Interstate 80 corridor from the North Fork put-in. However, you could also crash in Sacramento. Or, keep heading up 80 and finish the weekend at the slots in Reno…
Campgrounds
Long Ravine Campground: Colfax, (530) 346-6166 This family owned and operated campground has RV and tent camping sites and amenities like hot showers, picnic tables, BBQ and fire pits, flush toilets, hookups, and a dump station. Guests have access to 26 miles of shoreline, boat rentals, swimming platform and slide, and fishing on Rollins Lake. More primitive camping is also available in the Auburn Recreational Area.

Camping Tip
Some paddlers choose to camp at the put-in to the North Fork American because of the river access and shuttle. If you are going on a commercial trip, check with your outfitter about your meeting spot and where you should camp.
Hotels and B&B's
Best Western Golden Key: Auburn, (530) 885-8611
This hotel has comfortable rooms with amenities like Cable, coffeemaker, AC, microwave, and fridge. Guests get a complimentary continental breakfast, and can hang out at the year-round pool or spa, an acre of gardens with over 120 rose bushes, or use the lawn area's picnic tables and BBQ.
Quality Inn Lodge: Auburn, (530) 885-7025
This AAA approved accommodation is located just off of Interstate 80, and is about 25 minutes away from the AO meet place. It offers free continental breakfast, Internet, Pet Friendly rooms, and seasonal outdoor pool. Some in-room amenities include Cable, coffeemaker, microwave, alarm clock, and hair dryer.
Sierra Sun Cloud Bed and Breakfast: Colfax (530) 637-1083.
If a chain motel just won't satisfy your discriminating tastes and you hanker for a little swankiness and luxury after a day on the river check out the Sierra Sun Cloud B & B in Colfax. This 18 acre property has beautiful views, a small lake, unique rooms and an outdoor spa for guests' use. Breakfast is served and special diets can be accommodated.