Gear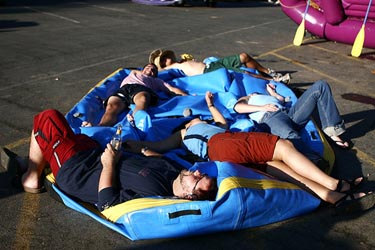 The South Fork is so popular with kayakers and rafters that it would be totally ridiculous if there were no gear shops in the vicinity. Luckily for you, this is one area of life that actually makes sense, so there are, indeed, places to buy the helmet you forgot, get repair stuff for your paddle, or get a new pair of Chacos on the SF.
The River Store is a full-service Kayak shop located just off Lotus Rd, near Camp Lotus and the All-Outdoors River Center. They have boats, gear, books, clothes, and even river-themed jewelry. In addition, it is the home of Current Adventures Kayak school. They even have a pool for roll practice. The River Store also rents stuff like wetsuits, sleeping bags, tents, and spray skirts.
Another option, located on the Hwy 80 corridor if you're coming from that direction, is Sierra Outdoor Center, in Auburn. They have a wide range of outdoor gear for kayakers and rafters as well as sundry items like sunscreen and chums. Or you can stop by California Canoe and Kayak on your way up Highway 50. They are located in Rancho Cordova.

Gear Tip
Summertime is usually quite hot in the Coloma Valley, so kayakers might want to wear a shorty dry top and rafters can usually go with a swim suit and sandals.
Online Retail Gear Shops
REI.com
: Great named brand gear at affordable prices. Visit a retail store or shop online.
Altrec's Outlet Warehouse: 30-60% Off
: Huge discounts on named brand gear from Patagonia, The North Face, Marmot and more.