Logistics
Commercial vs. Private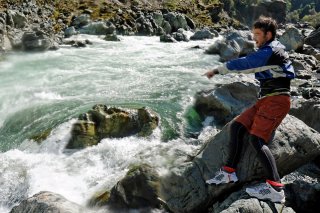 Depending on your skill level and equipment, running a private trip on the Trinity is fairly straightforward. If you are looking to brave Burnt Ranch Gorge, you should be an expert boater. Otherwise, call an outfitter. There are several outfitters based in Willow Creek and in Big Flat, but most outfitters who run the river are based elsewhere, so book in advance.
Permits
No permits are required to run a private trip on the Trinity.
Overnight Trips
It's possible to do an overnight trip on the Trinity, and you can get a nice wilderness experience on the Lower Trinity. Plan to do Pigeon Point and Burnt Ranch in a day, with the potential of continuing further for another day on the water.

Shuttle Tips
The Trinity River is one of the easiest places to do shuttles because the entire river flows along Highway 299 and Highway 96. So, although it's a long drive from any major metropolitan area in California, once you get there, the driving is minimal and the boating is superb.
 
Shuttles
Highway 299 makes shuttling cars easy. Find a spot to put-in (we recommend a few below), drop off your gear, and drop your car off at take-out. In Burnt Ranch, the river is a long ways down from the road, deep in a canyon, so plan on running the entire stretch. No alternate take-outs really exist.
Directions
Getting to the Trinity River is actually pretty easy. Head north on I-5 and in Redding, go west on Highway 299. You'll drive through the town of Weaverville, and depending which run you're doing, the Trinity is about another 1/2 hour down the road.
Put-in for Pigeon Point Run: Pigeon Point Campground
Located along the river about 8 miles east of the "town" of Big Bar. There are bathroom facilities and a nice boat ramp at the campground.
Take-out for Pigeon Point Run: Big Bar or Big Flat
There are river access points in both places and they are a couple miles apart. There are also numerous take-out points below if you wish to continue on through some mellow Class II rapids. Check with the local rafting companies about parking and taking out in town. On slower days, they may let you park a vehicle in their parking area which makes for an easy take-out. Otherwise, you can find parking along the highway in town. 
Put-in for Burnt Ranch Gorge: Cedar Flat or 1.5 miles downstream at China Slide
Cedar Flat Bridge is about a few miles east of the town of Burnt Ranch along highway 299. China Slide is a lower put-in (China Slide Dump is located along Highway 299 also) but Cedar Flat Bridge gives you a little time to warm up before the big rapids. Put in just upstream of the bridge.
Take-out for Burnt Ranch Gorge (Put-in for Lower Trinity): Hawkins Bar
Hawkins Bar is 1/4 miles downstream of the Salyer Bridge. From the Hawkins General Store in town, drive down a dirt road to the river.
Take-out for Lower Trinity: Weitchpec – Confluence with Klamath River
There are loads of alternate take-outs along the way if you don't want to do a multi-day river trip. The lower part of the Trinity runs along Highway 299 and then north along Highway 96 through the town of Hoopa. A great alternate take-out for a shorter trip is where 299 and 96 meet.