Restaurants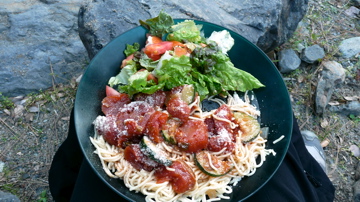 If you're looking for high-class fine dining, you're probably looking in the wrong part of the world, but if what you need is a cup 'o joe to wake you up in the morning and a pizza or burrito to fill your belly at night, look no further.
Restaurants in Weaverville
On your way to the Trinity River from Weaverville? Stop by Mamma Llama's coffeehouse located on Main Street in Weaverville, and get some caffeine flowing through your blood. This darling coffee joint also has free wi-fi, blended coffee drinks, specialty teas, and smoothies. (530) 623-6363.
La Grange Cafe, also on Main Street, has excellent homestyle cooking. (530) 623-5325?.

BBQ Tip
Many of the campgrounds actually have grilles, so all you really need are some hamburgers or chicken breasts and some coals, and you can have a very filling, inexpensive, easy to clean dinner.
Restaurants near Willow Creek
If you're staying in nearby Willow Creek, there are several restaurants located along Highway 299 in town, including the Raging Creek Pub & Eatery, the Pizza Factory, (530) 629-4800, and Espresso and More, (530) 629-4193.