Restaurants
Restaurants near Groveland
The quaint, but sometimes bustling town of Groveland has some great options for post-river grub, although after a long day on the river, it doesn't always matter what you eat, it just matters that you eat something.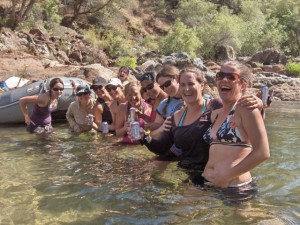 Cocina Mexicana: (209) 962-6651
A favorite amongst guides and private boaters, this awesome authentic Mexican restaurant is always packed during prime hours. Service is quick and the food is tasty, but they only serve beer, so if you want a margarita, you'll have to head across the street afterwards. Located on Main Street in "downtown" Groveland.
Iron Door Grill: (209) 962-6244
The oldest saloon in California, a night out at the Door is often an historical and cultural experience. On weekends, a mixed crowd of river folks, rednecks, and tourists heading to Yosemite find themselves dancing together to great live music. Drinks aren't cheap, but they usually are stiff. Breakfast, lunch, and dinner is also served 7 days a week. Located at 18761 Main Street in "downtown" Groveland.

Nightlife Tip: Live Music
There is often great live music at both the Iron Door and Mountain Sage. Check out their concert calendars if you're looking to shake your booty and enjoy some awesome beats.
Pine Mountain Lake Country Club: (209) 962-8638
Located at 19228 Pine Mountain Drive in Groveland, the Country Club has a varied menu of steaks, seafood, pastas, and salads. Breakfast and lunch menus are also available, as well as a full bar menu. Prices are a littler higher (around $20 for an entree), but if you want swanky dining, make a reservation and enjoy!
Cafe Charlotte:(209) 962-6455
With reasonably priced dinners, an extensive menu of chicken dishes, pasta, and seafood, and a charming atmosphere, Cafe Charlotte is a good option for a nice meal out. Located at 18736 Main Street in Groveland.
Two Guy's Pizza: (209) 962-4897
Sometimes all you want is a big slice of pizza. For a quick, easy, tasty bite to eat, this is a great choice. Two Guy's is located at 18955 Ferretti Road in Groveland.
Buck Meadows Restaurant: (209) 962-5281
About 3 miles east of Casa Loma store (the typical meet spot) is Buck Meadows Restaurant. They serve breakfast, lunch and dinner. Located on Highway 120 in Buck Meadows.