Whitewater & Scenery
Best All-Around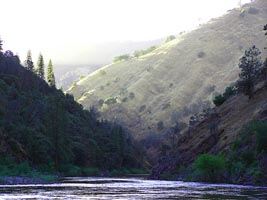 If awards were given out for California's rivers, the Tuolumne would win the "Best All-Around" award. The rapids on the Tuolumne are pool-drop, meaning there are moments of calm in between the whitewater excitement. Side streams such as the Clavey River, Big Creek, and the North Fork of the Tuolumne provide magical side hikes, fishing holes, and warm swimming pools during the summer months. The Tuolumne can be rafted or kayaked in a day, but it's much better suited for an overnight trip. Two days are the most popular length of time, however if you like exploring side creeks, fishing, and lounging in the sun along with amazing whitewater, a three day trip might be ideal for your group.
Everything on the Tuolumne River seems to be divided up based on Clavey Falls. Before "The Falls," Clavey Falls, and after Clavey. Many trips choose to camp at Clavey and do a side hike, others just stop for lunch and scout the rapid. Almost everyone scouts Clavey rapids, even advanced boaters.
Put-in to Clavey: Class IV Heaven
At Meral's Pool (named after CA kayaking pioneer, Jerry Meral), the Tuolumne River starts out immediately with a series of challenging whitewater rapids: Rock Garden, Nemesis, Sunderland's Chute, Hackamack Hole, and Ramshead. The river continues in this manner with more pool-drop Class IV rapids (India, Phil's Folly, Sterns, Evangelist, and Framecrusher) down to its confluence with the Clavey River.

Insider Tip
If you have time to take a hike up Clavey, it is well worth a little walking. There are amazing pools, including the Olympic Pool and several fun jumping rocks.
The Clavey River: Primo Camp Spot, Beautiful Side Hike, Class V Rapid
The Clavey is one of the last free flowing rivers in the state and provides habitat for a rare pre-glacial population of native coastal rainbow trout. It is also a great place to camp on an overnight trip, or stop for a short day hike to the olympic-size swimming hole a little ways upstream. Just below the confluence is the biggest and most famous whitewater rapid on the T, Clavey Falls. While a clean line through Clavey makes it look easy and straightforward, the rapid has been known to "jump out and bite" many boaters. Most old-timers have some story or another about a time they flipped or wrapped at Clavey. Many people believe the rapid changed a few years ago, during the 2005 high water spring, so that Clavey Hole is no longer a force to be reckoned with. However, Clavey is still a powerful, exciting, and usually entirely fun rapid.
Below Clavey: Long Technical Rapids, Campsites & the North Fork Tuolumne
Below Clavey, the Tuolumne calms down for a few miles. There are fun jumping rocks, long calm pools to swim in, and easy Class II and III rapids. Big sandy beaches shaded by oak trees provide awesome campsites for overnight whitewater trips: Powerhouse, Grapevine, Baseline, and Driftwood. The river picks up again with a few long Class IV rapids, Grey's Grindstone, Cabin, and Hell's Kitchen. The last several miles are more mellow, but there are still Class II and III rapids interspersed to keep things fun. The 18 mile run ends in Don Pedro reservoir. If the reservoir is full, you may want to consider paying a boat shuttle service to tow your boat the last mile. When the reservoir is low, there are Class II rapids all the way to the take out at Ward's Ferry Bridge. Prepare for a somewhat heinous hike up a steep trail to the car after your day of rafting or kayaking.